Native Americans: Religion
---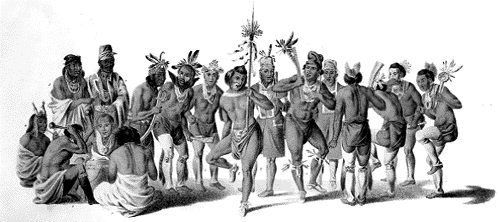 War dance of Sauk & Mesquakie
Indians believed that the world around them was filled with spirits with magical powers.
Medicine men were the closest approximation to religious leaders.
Ceremonies were performed individually or in a group for spiritual guidance, for success in hunting or war, or for unity and public rejoicing.
Many Indians converted to Christianity due to the missionary work of the Catholic priests in Illinois.
Image: Courtesy The Edward E. Ayer Collection, The Newberry Library
---
How do they compare? Native Americans | French Settlers | African Slaves
© Illinois State Museum 31-Dec-96