African Slaves: Religion
---
16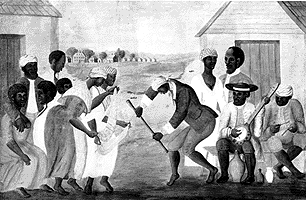 Wedding dance
The French Black Code required slave owners to baptize and educate their slaves in the Catholic faith.
At the baptism of a slave baby, godparents, who were usually French, were chosen to oversee the child's religious instruction. Often a baby would be named after a Catholic saint.
Little is known about the practice of African religions in French Illinois, since the slaves would have needed to hide such beliefs. In Africa, these people would have believed in ancestor worship and the significance of dance, drumming, and shouting during worship. Many of these practices were adapted to fit Christianity and the slave experience.
---
How do they compare? Native Americans | French Settlers | African Slaves
© Illinois State Museum 31-Dec-96