Illinois River Geology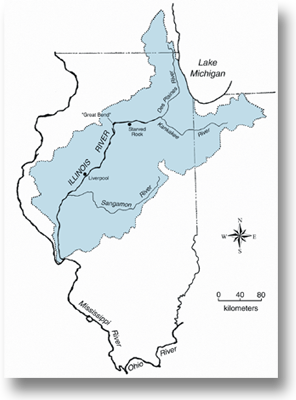 The Illinois is a flat, slow-flowing river. It has one of the world's lowest gradients (slopes), dropping only 9 meters (29.5 ft.) from the rapids at Starved Rock to its mouth.
South of the "Great Bend" at Hennepin, the Illinois flows through a wide valley where the Ancient Mississippi River once flowed. About 24,000 years ago, glacial ice moved the Mississippi to its present location along the western border of Illinois.
About 17,000 years ago, a catastrophic glacial flood, called the Kankakee Torrent, widened the valley. It swept away large boulders and exposed bedrock. Sand and gravel left by the floodwaters made the riverbed near Liverpool that is reconstructed in the exhibit diorama.