French Settlers - Clothing
---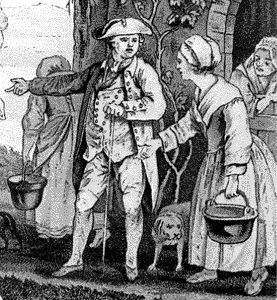 Scarcity of boots and shoes led many to adopt Indian moccasins for footware.
Many wore work clothes like the peasants in France for everyday wear, or adopted Indian dress, such as buckskin jerkins or leggings.
Elegant silk dresses or frock coats, ruffled linen shirts, knee breeches, and shoes with silver buckles were worn by wealthier settlers for special occasions.
---
How do they compare? Native Americans | French Settlers | African Slaves
© Illinois State Museum 31-Dec-96