Objects: 1890-1920
35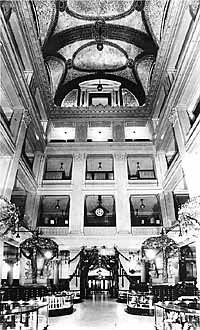 Palaces of Plenty
The abundance of goods produced in the late 1800s led to the development of department stores. Quantity buying from manufacturers, low taxes, and cheap labor created enormous profits which were invested in building even larger stores. In Chicago between 1890 and 1920, Marshall Field, the Fair, Mandel Brothers, and Carson, Pirie, Scott all built new stores which would be very costly to duplicate today.
Department stores encouraged "shopping," examining goods without prior intentions to buy, and placed a fixed price on each item. Windows were "dressed" artistically to stop people on the streets. Stores actively tried to influence people's ideas of what was stylish and appropriate. Elegant store interiors, tea rooms, and seasonal events made these stores as much public attractions as fairs and museums. Store rules required salespeople to be polite and attentive to rich and poor alike; however, stores directed their appeal to women of means.
These household objects are examples of what could be found in department stores. They are grouped according to the materials they are made of.
Metal
Glass
Ceramics
Click here for a view of the Museum exhibit and how the objects are displayed.
---

© Illinois State Museum 31-Dec-96