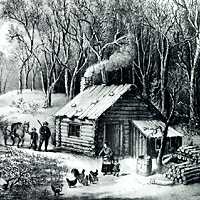 John McMurty came to Illinois with his family in 1830 and settled in Henderson Grove. There were six girls in the family, the oldest was 10. Historians know the story of McMurty and his family through the reminiscenses of his daughter Martha who was 6 when her family moved from Indiana.
She writes: "I was born in Blue River, in Crawford County, Indiana, January 11, 1824, I came to Henderson Grove, Knox county, Illinois, with my father and his family, John McMurty, in 1830. We settled on the north side of what was then known as Henderson river. My two uncles had come the year before and settled on the south side of the same river."
The following story is based on Martha's account of life in Henderson Grove from Martha McMurty Piatt's Reminiscence which is held at Knox College, Galesburg, IL.