French Settlers - Family Life
---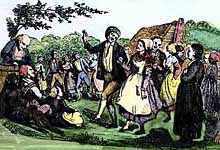 The low number of women in French Illinois led many women to marry in their late teens. When a census was taken, girls over age 12 were listed as marriageable. Wives handled family financial matters when husbands were absent. Women acquired significant wealth and authority as widows.
Many Frenchmen wed Indian women. Their children became a large part of the French population.
Many children were born in colonial Illinois. Only half lived to maturity. An average family had 3 children.
Boys over age 12 were considered old enough to carry guns and defend the settlement. Males were legal minors until age 25, and females until age 18.
Image: Henry Howe, Historical Collections of the Great West, Cincinnati: H. Howe, 1851.
---
How do they compare? Native Americans | French Settlers | African Slaves
© Illinois State Museum 31-Dec-96